New Music Dictionary, Primavera Club 2018 edition
The lineup of this year's festival of emerging stars visualizes the future of music with diversity of gender, origins and styles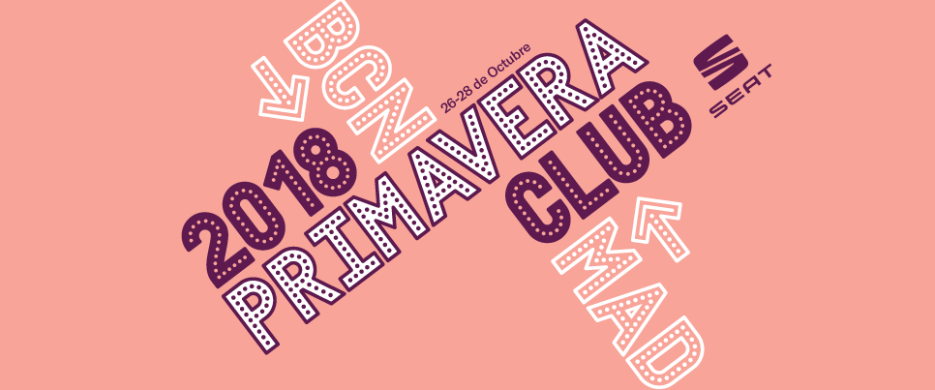 Around 72 concerts in three days will transform Barcelona and Madrid into global laboratories for music
Maybe you don't know it yet, but you are about to discover your next favourite band. It's that name that you will see everywhere next year, the one raved about by the press, counting their listens by the millions and, who knows, maybe even appearing at next year's Primavera Sound. And to discover it, obviously, you'll have to go to Primavera Club, which from 26th to 28th October will host the debuts in Barcelona and Madrid of a great selection of artists whose careers will take off in the next few months.
A total of 46 artists will perform at Apolo, La (2) de Apolo and the Centre Cultural Albareda in Barcelona, and a selection of 26 names will play at the Teatro Barceló and at El Cielo de Barceló in Madrid. Once again, the festival will have the support of SEAT as its strategic partner, thus consolidating their backing of emerging talent and creativity. Just like opening a dictionary at a random page and discovering a new word, Primavera Club encourages curiosity, discovery and immersion. It invites you to imagine the future. These are some of the neologisms and new concepts that we are going to explore:
1. Bedroom pop: You will know them for their (apparent) simplicity and their songs for everybody, created within four walls. Youtube algorithms, soothing guitars and eternal melodies. With Boy Pablo from his bedroom in Bergen, the very charismatic Jimothy Lacoste from London (although, be careful, he can speak Spanish) and Halo Maud with her French accent.
2. Digger: In these times of hyper-connectivity, there are places that Google still can't reach. We are in the hands of the diggers, the ones discover those gems that had been buried and out of our sight until now. Analogical devotion with an educational vocation, each one in their area: Habibi Funk in the (obviously) funk from the Arab world, Athens of the North in their (vinyl only) love of world music and Sofrito in vintage dance sounds from the planet's both tropics.
3. Feminist (not feminine) pop: You don't surf the fourth wave of feminism, you dive into it. And that means that the normal thing nowadays is not highlighting artists in a lineup according just to their gender, but to go more deeply into their message. The proposals by Stella Donelly, Okay Kaya, Ama Lou, Buzzy "Spielberg" (yes those Spielbergs) Lee, Flohio and Tirzah are relevant way beyond their mere condition of women opening a path for themselves in a man's world. From Stella Donelly's rebel folk to Flohio's hip hop made in UK and the R&B sophistication of Ama Lou, they are here because they have a lot of things to say (some of them militant, some other not) and basically, because the future is theirs.
4. Guitar's revenge: In the law of the pendulum, right now we would be at the furthest point from any guitar effervescence. But indie rock will never die, and it is threatening to make an even greater impact if such stimulating proposals as Snail Mail (reviving 90s indie rock), Hop Along (pure melodious drive), Conttra (vindicating sweat), Palm (between Animal Collective and math rock), Jess Williamson and her doorway to a happy world and Alaskalaska (the warm breeze of pop from the north) continue to be presented. Maybe they are not painting the town red, but they are definitely not dead.
5. R&B whispers and synonyms: Sometimes, a whisper marks the path. Let there be total silence in order to discover one of the revelations of the year, serpentwithfeet, and his polyhedral and silky R&B. Let Kadhja Bonet bewitch us with the versatility of her style and performance. Let Hilary Woods turn the venue into a forest at nightfall. Let Tirzah prove that hers is one of the debuts of 2018. Let Hnos Munoz (from Madrid) and Mazmorra (from Bilbao) explore the margins of the genre. And let the whispers transport us.
6. Jolly mambo: How are your hips feeling today? As well as pop, hip hop and electronic music, this year at Primavera Club you will be able to dance mambo and chachacha brought to you by the Cuban band Orquesta Akokán, to the auto-tuned cumbia from Galicia with Esteban & Manuel, and traditional Turkish folk passed through a Belgium filter by Altin Gün. Away with hang-ups. Variety is the spice of dance!
7. Ultra-flow: There is flow and then there is ultra-flow. It doesn't have to be the quickest (British artist Octavian knows all about that: he has made Drake dance to some of his anti-hits) nor the most authentic (although there won't be many with more hood than Slowthai), and it doesn't have to be the most controversial (JPEGMAFIA thrashes neoliberalism and hipsterism) nor the most poetic (Flohio could easily be the next Kate Tempest). They just have to "have it". And all these rhymes stun, wound and scar. Keep an eye out for these ones!
8. Massive techno: Friends of techno in all its forms always have their space at Primavera Club. As usual it will be in the early hours, as part of the Nitsa and Astin programme in Barcelona, and it will allow you to discover Head Technician aka the soundtrack of a black hole, the Berlin-based Icelandic artist Volruptus, the rave exploits of Or:la and the teachings of the sensei Kuniyuki, one of the greatest exponents of Japanese electronic music. Let nobody leave unsatisfied.
9. Kinkidelia and by-products: What happens if you cross the wide-boy spirit of Triana with the psychedelia of King Gizzard & The Lizard Wizard? What happens is exactly Derby Motoreta's Burrito Kachimba, a new band with the best name in the world that gets even better when you listen to them and see them live. But you can also be flashy without using fuzz: you could go for electronic music (the wild J-Zbel vouch for this), for punk (you'll have to dive for shelter when Louder Than Death, the Bildergerg punk club, arrive) or for trap (MC Buseta together with GOA, mixing funky Brazilian and emo rap). Hey, see that? We didn't mention trap till the last minute! That deserves a shout-out, doesn't it?
The full festival tickets for Primavera Club 2018 are already on sale at the price of 25€ plus booking fee, the same price as for the last four years. Day tickets are also on sale at the price 15€ plus booking fee. They can be bought on Redtkt and Ticketmaster. Get yours now! [TICKETS AVAILABLE HERE]