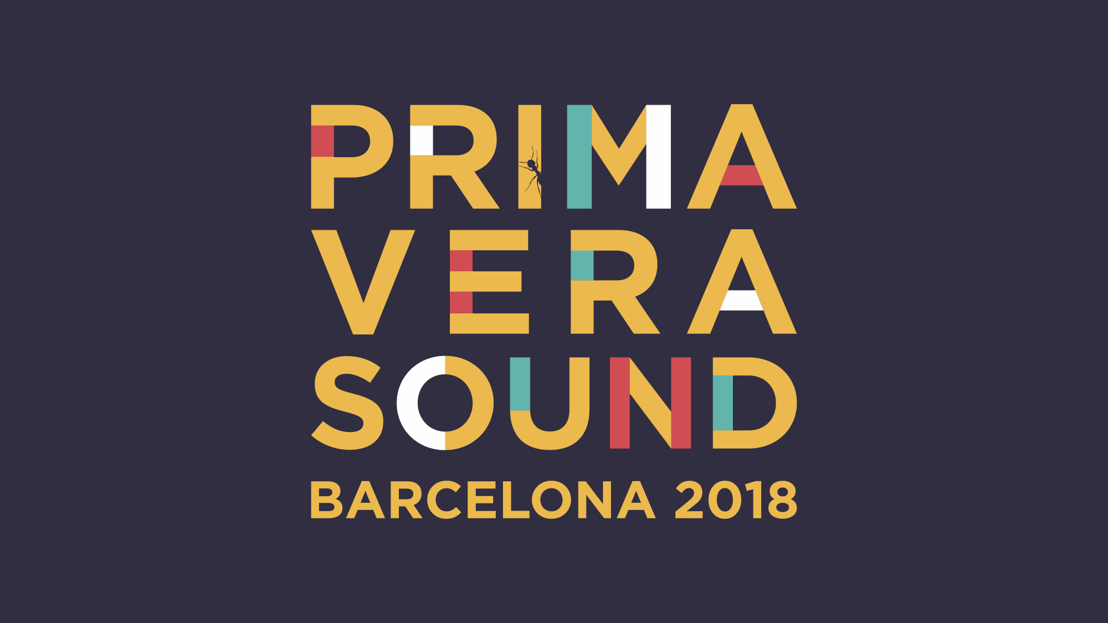 Primavera Sound, where everything starts once again
The British band Ride and an exclusive concert by Amaia join the lineup of the 18 edition of the Barcelona festival, that starts today.
Tuesday, May 29, 2018 — Primavera Pro will once again bring together professionals from the music industry at the CCCB vindicating freedom of expression and the role of women in the sector.
Setting up a festival with over 300 hours of live music would make no sense if each one of them couldn't turn out to be the best hour of your life. The eighteenth edition of Primavera Sound officially starts today with a concert by the Madrid band GANGES in the sala Apolo of Barcelona, the first of 257 artists who will give shape, colour and shine to a new collective celebration of music which is either known already, intuited or yet to discovered. Everything for the three central days in the Parc del Fòrum from Thursday to Saturday (as well as for the inauguration day of Wednesday) and for the parallel programme of Primavera als Clubs and Primavera al Raval, with several free concerts at the CCCB on
Sunday, June 3rd, is ready to kick off.
To the lineup that is already known today we add two names that play on the Heineken Hidden Stage and whose presence emphatically confirm Primavera Sound's commitment to diversity: the champions of British shoegaze Ride, who will play on Friday, and the extraordinary voice of Amaia on Thursday, accompanied by the young Catalan band The Free Fall Band with a repertoire of covers exclusively prepared for the occasion and full of surprises.
For yet another year all the full festival tickets have sold out ( Saturday is also sold out; there are still tickets for Thursday and Friday), at Primavera Sound you will be able to live the best hour of your life with the much-awaited first festival concert of the Arctic Monkeys' tour, the overflowing emotions of Björk, the liturgy of Nick Cave and The Bad Seeds, the ruthless hip hop of A$AP Rocky – presenting his recently released new album-, the intimate epic of The National, t he mythical Jane Birkin with her homage to Serge Gainsbourg, Lorde' s prodigious pop and the spirited trap by the American trio Migos.
This is only the tip of the iceberg of a spectacular lineup that covers a multitude of styles and sensibilities. Do you want to dedicate a couple of your hours to up-and-comers? Perfect: note down Rex Orange County, Sevdaliza, Yellow Days, Bad Gyal, THE BLAZE ...Do you fancy some hard sounds? Check out Mike Patton's Dead Cross, Ty Segall, Watain, Zeal & Ardor, SUMAC, and Vril. If your tastes are more esoteric, then these concerts are for you Art Ensemble of Chicago, Capullo de Jerez, Sparks, Oumou Sangaré and Spiritualized with an orchestra and choir. I f you are looking for female artists, you will find Björk, Warpaint, CHVRCHES, and Hinds on the main stages on Thursday and who will make way for Haim, The Breeders and La Bien Querida on Friday and for Lorde, Jane Birkin, Lykke Li and Christina Rosenvinge on Saturday. Is local talent your thing? Maria Arnal i Marcel Bagés, Núria Graham, Yung Beef, Marion Harper ...The Primavera Sound message is loud and clear: each artist, at whatever time, on whatever stage, is there for a reason. So reserve some of your hours for the unexpected on some of the 22 stages: 15 in the Parc del Fòrum and 7 in Primavera a la Ciutat.
The place where time will fly will definitely be in Primavera Bits, the electronic music area of the festival on the other side of the bridge that continues to expand with a new stage, the Xiringuito Aperol, that will offer music from midday of each of the central days by legends such as Floating Points and Four Tet. Prepare your trip to the other side because if you want to see artists such as Jon Hopkins, Jorja Smith, Chromeo, Mount Kimbie, Majid Jordan, Superorganism and Mike D (yes, the one from the Beastie Boys), this is the place for you.
You can also spend your hours discovering all that the Parc del Fòrum has in store for you. Stroll around the 200,000 square meters of the site, indulge yourself with one of the many gastronomic delights of Primmmavera (all kinds of food trucks, Barcelona street food restaurants, Kauai paellas and a pop-up restaurant called Casa Primavera with a different prestigious chef everyday), get from one end to the other with the SEAT shuttles, dip your feet in the Mediterranean at the Primavera Bits beach, look round the record and Flatstock poster fairs. This year Heineken Hidden Stage is moving outdoors to celebrate its fifth anniversary and its former location will be taken over by The Warehouse, an indoor electronic music club that will host two shows by Liminal, the new sound experiment by Jónsi (Sigur Rós). And we also welcome the SEAT Village, where you will find the Radio Primavera Sound area with DJs (six humans and a robot!) playing indie, pop and rock.
But, to tell you the truth, the best hour of your life can happen anytime: it doesn't matter where, when or who with. That time of the year is here. Primavera Sound, where everything starts.
Primavera Pro: when music speaks
Music is created to be listened to. Something that is evidenced by the 300 hours of melody (and noise) generated by Primavera Sound. But what happens when somebody tries to shut it up? This is what is happening to Spanish rap artists who have been criminally sentenced for their lyrics. One of them, the ex-member of La Insurgencia Elgio, will make his voice heard at Primavera Pro, at a roundtable open to the general public and organized in collaboration with Amnesty International. The professional meeting will also not keep quiet about incidents of harassment and sexual aggression that, unfortunately, can plague festivals and concert venues. Nor will it keep quiet about the lack of equality in the music sector, against which, the winners of this year's Primavera award, the association Mujeres de la Industria de la Música (MIM), continue to fight.
But as well as condemnation and vindication, Primavera Pro will also be a space for celebration, which commemorates with LostPlanetas (and their fans) the twentieth anniversary of Una semana en el motor de un autobús. That will explore the relationship between music and images together with Kyle Dixon and Michael Stein authors of the soundtrack of Stranger Things, Jlin, Stuart Braithwaite from Mogwai, and with the filmmaker Adam Curtis, who will be interviewed by Father John Misty in a meeting that will be absolutely unique. And that will welcome a long list of speakers and guests, who, between May 30th and June 3rd will make the Centre de Cultura Contemporània de Barcelona (CCCB) a meeting point for the industry and music lovers.
...And, yes, Primavera Pro will also be a place where you can listen to many hours of music, thanks to showcases coming from the five continents that will fill the stages of Day Pro at the CCCB (free access) and Night Pro in the Parc del Fòrum with up-and-comers.